This resource document is intended to offer a space to plan ideas to support children against the six key areas:  Big Worries, Routines, Environment, Resources, Expectations, Roles and Relationships.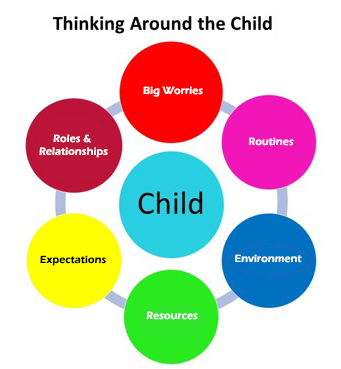 Click to download All Around The Child Planning Form
On each form for each key area the table is divided into two columns; Things We're Doing Now and Things to Try.  Each area is also divided into 6 rows: Pupil/Child, Parent/Carer, Parent Carer/Child, Teacher, Teacher/Pupil, and Home/School.
Within these columns list the tips and strategies each is doing to support themselves or the child.
e.g. Pupil/Child, Parent/Carer or those things that are being done/could be done to support the child through partnership.